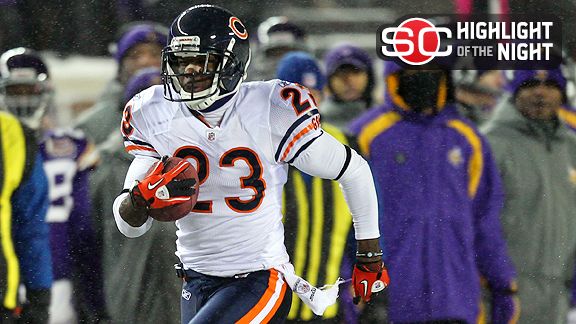 Entering the third quarter, this could still be anyone's game. The Chicago Bears were up 20-7. With 12:23 remaining, Devin Hester looked to end this game before the second half even started, just like what he did back in his old days.
I remember them, and they weren't too long ago. Many happened in 2006 when Hester was just only a rookie, proving he was the fastest player in the league. At cornerback that season, Hester made his first big play when he returned a missed field-goal all the way back for a touchdown, which would break the record at the time.
That season, Hester wanted to make payback to all the team that have passed up on him. Hester was drafted as the 57th overall pick in the 2006 NFL Draft. Hester one time recalled saying that the Tennessee Titans called him up on draft day and said that they may draft him. It really looked like it, however, Tennessee screwed him over and drafted LenDale White instead. This would lead to a big mistake as White never became that running back from USC many expected. Now where do you hear about White these days?
Hester continued to excel that season, having five total return touchdowns: three on punt-returns and two on kick-returns. Hester would make history in the Super Bowl, as he was the first player to return the opening kickoff for a touchdown. Hester took it all the way back on the Indianapolis Colts. The Bears would score ten more points after that, finishing with 17 while the Colts beat them to it with their 29.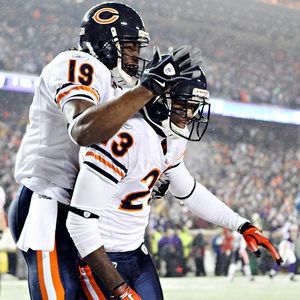 Hester was then moved to the offensive side of the ball, as he would play wide receiver. The Bears were struck by many quarterback-changes, going back and forth continuously with Rex Grossman and Brian Griese. But Hester would continue to destroy on returning, having four touchdowns on punts and two on kicks. He would have 20 catches for 299 yards with two touchdowns, including an 81-yard bomb in the season for a score, as his receiving stats.
Hester would decline in the returning area for the next few seasons, but would continue to be part of the team's receiving core. Hester nearly tripled his catches and production with the offense for the next two seasons. In 2008, he had 51 catches for 665 yards along with three touchdowns. In 2009, he had 57 catches for 757 yards and three touchdowns.
But while he significantly improved in the receiving game, his production in what he is most known for--returning--took a huge drop. His combined punt-return yardage combined from 2008 to 2009 was still about 200 yards less than one season of punt-return yardage in 2007 or 2008. His kick-return yardage wasn't must different. Hester hasn't had a kick-return for a touchdown since.
Part of the reason Hester wasn't used in the return-game as much is that the Bears sometimes didn't even use him there. Chicago instead used Johnny Knox, but he wasn't as good as Hester. And that is why Chicago struggled for the past few seasons--part of the reason at least.
Now the Bears have included more and more in everything. Hester's kick-return yardage has sparked up to 387 yards, much better than from 2008 to 2009. This also included a huge 79-yard return. Hester would tie the record for most returns for touchdowns with 13, having two punt-returns gone back. Hester would also have good statistics in the receiving game with 36 catches for 411 yards and three touchdowns. There is still two more games to go, so he can still improve that.
But entering the Vikings' game, Hester needed to make a play. With the Bears up 20-7, they needed to close this one for good with at least one or two touchdowns. Hester changed the momentum of the game. Hester took back a punt with 12:23 remaining the third quarter all the way back for a touchdown. That was the record-breaker! Hester broke Brian Mitchell's record of most returns took back for touchdowns. It took Mitchell 223 games, about 13 years, for all of those touchdowns. Hester? It only took him five years and only 74 games. By far, he is the best returner in football. And in the words of Michael Wilbon, Hester is the one of the greatest game-breakers. He is right up there with Philadelphia Eagles' wide receivers DeSean Jackson.
"Don't dwell on this," Hester said. "It's the record-breaker, but there's going to be a lot more. I guarantee you that.
"We've been closer and closer each and every week to breaking this record, and then for it to come down to the week of us winning the division championship, it felt great."
Hester has finally gone back to the top status in the league as one of the game's great returners again. For the past two seasons, he was overpowered by other returners like Jackson and such.
But, finally, Hester is back.
And he is doing what he does best!