Motorsports broadcaster Ken Squier often says that athletes, in particular racers, "are common people doing uncommon things." If that's the case, then 24-year-old athlete Katie Spotz is an extraordinary person accomplishing the impossible with everything she accomplishes.
Motorsports broadcaster Ken Squier often says that athletes, in particular racers, "are common people doing uncommon things."
If that's the case, then 24-year-old athlete Katie Spotz is an extraordinary person accomplishing the impossible with everything she accomplishes.
In 2008, she swam the entire 325-mile distance of the Allegheny River from July 22 to August 21 accompanied by safety kayaker James Hendershott.
As if that wasn't challenging enough, Katie rowed across the Atlantic Ocean last year in just over two months. Even with the last-minute route changes, she made history in two ways. Witness:
Katie became the youngest person to ever row across the Atlantic
She became the only American to row solo from Africa to South America
Katie's competed in the Half Ironman Triathlon and the Oxfam Trail Run as well as cycling over 1,000 miles of solo bike tours across the US, once traveling 236 miles in a day. To say the least, she seems to raise that bar of excellence to a higher level with her accomplishments.
That standard went up two notches recently as Katie and her teammates wrapped up a 3,000 mile 24/7 race called Ride for Your Lives! just two weeks ago.
Making her presence and record in the race more impressive was the fact that she gutted out a fractured pelvis injury that occurred while training for this cross country competition.
Just imagine getting prepared for one of the biggest events of your life, only to have a physical setback which would most certainly end your plans before they ever began.
Never one to give up, Katie and teammates Sam Williams, Kevin Malone, and Anne Miltenburger treked their way across the US, working hard as one to come up with a way for the race to still go on.
The pride of Mentor, OH was able to finsh the race with a special handbike which she required some seat time. Still, she toughed it out and (not to anyone's surprise) as of the moment, she's planning her next journey!
I had the opportunity to interview Katie this week via email and as you'll see, she's very personable, thoughtful, and an athlete sans the ego and attitude that some sports figures display.
Also, Katie and I have a bit of a friendly competition with each other - especially evident towards the end of the interview!
Just remember Katie, healthy or not, I'll still have to bring my A-game to even have a chance to beat you in a foot race!
So sit back, relax, and enjoy my exclusive interview with the "Girl on a Mission: Katie Spotz Cycles Across America Against the Odds!"
Rob Tiongson : Katie, it seems like when you've accomplished the impossible, you find something that just raises the bar in terms of going beyond most people's limits. I understand you cycled across the country for a very good cause while battling a fractured pelvis. What were your emotions when you realized the extent of your injury in relation to your 3,000-mile race?
Katie Spotz : Seven days before the race I was training on the Santa Cruz mountain, doing a loop that I've done hundreds of times before. Eight months into training, I knew that route like the back of my hand.
After taking a spill on the downhill, I immediately knew something wasn't right, but was convinced that it was only minor.
Perhaps, a pulled muscle. When I visited the doctor's office and found out that it was actually a fractured pelvis, I was in disbelief. I even had the doctor print out the x-rays, as I wasn't fully convinced.
I was shocked. I thought this race I had been dreaming about would be over before it began. Then, I decided to get creative.
RT : Now being an all-around athlete, how'd you compensate or cope with your injury so that you could participate in the Ride for Your Lives! bicycle race from Oceanside, CA to Annapolis, MD?
KS : After rowing the Atlantic, running across deserts, and swimming down a river, I always reminded myself that obstacles are truly opportunities in disguise.
I've been motivated by countless number of people who set out to achieve things when the odds seem completely against them.
An hour after learning I had fractured my pelvis and nonstop calls to friends and family, I thought that a handbike would be my way to continue to be a part of the journey.
Instead of the standard road bike, I would be pushing myself completely by hand, with a specialized bike utilizing only the upper body.
And with the minor issue of not knowing how to ride a handbike, my new focus the week before the race became learning how to ride a bike.

Again.
RT : I'm certain that with any athletic endeavor that you undertake requires some kind of training. How'd you prepare yourself for this race – was it any different than when you geared yourself up for rowing solo across the Atlantic last year?
KS : The training for my ocean row was a walk in the park compared to preparing to cycle nonstop across America. I worked closely with a coach who tailored a program based largely on heartrate zones.
I gradually built up to 30 hour weeks on the bike with a mixture of about eighty percent of my rides being endurance workouts and the rest either intervals or hill repeats. And, my stomach got quite the exercise during the training and race itself. To fuel 12 hours of cycling or 200 miles a day, we estimated that I would need to consume 10,000 calories a day.
RT : With the race completed and that you've had some time to reflect on it, what are you most proud of accomplishing with racing across the country?
KS : The team behind it. We finished a challenge that had become something nobody could possibly have anticipated. What started out as an attempt to break the two-person mixed record for the Race Across America had turned into a battle to simply reach the end.
We wouldn't have finished this journey without our friends who chipped in to cover the distance, and made sure we were happy and healthy as we made our way across.
RT : Does your injury require any surgery or did your doctors suggest rest as a means to recover following your grueling race?
KS : Luckily, it's just a matter of playing the waiting game. It's a stable fracture, meaning it will heal on its own in 6-8 weeks. I can still exercise if I use pain as a guide, and keep to low impact sports. Racing across America was not recommended!
RT : You're 24-year-old but you've accomplished more than most people do in a lifetime and in amazing style. Is there ever a time where you go, "Katie, is this all I can do?" or "I think I've reached my goals, but there's more challenges that could come my way?"
KS : Where I'll be in five years time is a mystery, and I'm not interested in creating bucket lists or planning out every step.
Rather, I feel like adventures find me when I least expect it. There are certain adventures that capture my imagination and never let me go. That is, until I give it a try myself!
So although it's great to have accomplished what I have, I feel like more than anything else, it's important to enjoy the ride whether I'm pushing the limit in endurance or lounging on a lazy Sunday.
RT : When adversities strike people, they tend to rely on the support, whether it's emotionally or mentally, to get through pressing times.
Who keeps you motivated and fueled to keep at it, even when you feel like the odds are against you?
KS : Motivation comes in all shapes and sizes. During this past race across America, just seeing another race ahead or behind was enough to get me pumping.
But more than anything else, it's my closest friends, especially the ones I train with. It's amazing how quickly a 100 mile ride can go when you're with the right company!



RT : Free Association time for you, my friend. You've done this before in grand style, but I'd love to see how you'd handle these ones! You know the routine, so let's do it!
Pain.
KS : ...is temporary.
RT : Perseverance.
KS : Comes in all forms.
RT : Endurance.
KS : All mental.
RT : Courage.
KS : Sometimes, it is just trying.
RT : Life.
KS : Changes in an instant!
RT : Spontaneity.
KS : ...Is accidentally leaving your teammate in the desert (during the race)!
RT : Thrills.
KS : Riding in the rain on new purchase of scooter!
RT : Regrets.
KS : Our greatest teachers.
RT : I have to ask you, since I really am curious – what's next for Katie Spotz? Are you already planning up what your next endeavors will be?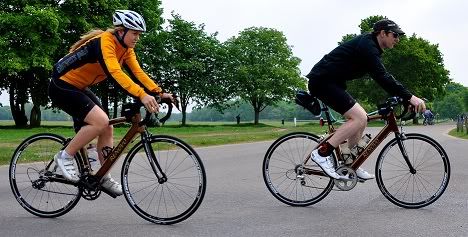 KS : Doing this race on handbike made me realize how much I want to race again, but without a broken pelvis!
I would love to team up with my friend and teammate during Race across America to take on another cycling challenge next year, with the hopes to raise some more funds for the Blue Planet Network.
RT : Now that this interview's nearly done, want to hit up the local track and run 7 miles with me? I have about 2,993 miles to do to catch up to you!
KS : Don't tempt me. Remember, only low impact sports until my bones heal up! You'll have to ask me again in three weeks time.
Author's Note : I'd personally like to thank Katie Spotz for taking the time for me to interview her as she came off the heels of her exciting race across the States. It's always a pleasure to catch up with her and if you'd like to learn more about her, search her Facebook fan page "Katie Spotz" or on her Twitter!
Also, I'd like to thank Betty Weibel, Ibby Clifford, and Veronica White for getting this interview with Katie scheduled in her busy weeks. She's got great people representing her and they obviously epitomize her standard of excellence.
Lastly, I'd like to thank Esther Morgan for providing the pictures of Katie as seen in the interview!