With football season kicking off, here are my top ten quarterbacks for the new season. And there will be an NFL season. The league is already set for a reported eight-game season, so there will be one no matter what! Just wanted to say that so you can't say anything stupid about the NFL lockout on this list if you comment on it.
So here is the list:
10. Josh Freeman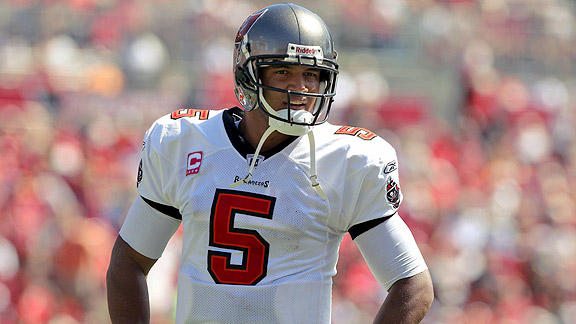 Josh Freeman had a poor rookie year, but got things kicked off in his sophomore season, leading the Tampa Bay Buccaneers to a winning season, 10-6. However, they fell short of the playoffs, very very short.
Freeman had a solid year, throwing for over 3,451 yards with 25 touchdowns and only just six interceptions, producing a 95.9 rating. He also completed 61 percent of his passes.
He hopes to improve on this season, and with an improved go-to target in Mike Williams, Tampa Bay will be riding to hopefully as NFC South champions.
9. Joe Flacco
Joe Flacco became a bit more pass-happy with the Baltimore Ravens, leading the team to a 12-4 record, but falling short to the Pittsburgh Steelers in a 31-24 bout in the divisional round of the playoffs.
Nonetheless, Flacco played well with 3,622 yards along with 25 touchdowns and ten interceptions, going for a 93.6 rating.
The four-year pro is in for a new year, and with a steal in the draft in Tandon Doss, Flacco has another hopefully passing threat to throw to.
8. Ben Roethlisberger
Ben Roethlisberger helped lead the Pittsburgh Steelers to a 12-4 record, becoming division champions in the AFC North and earning the team a first-round bye. From there, Roethlisberger helped the Steelers beat the Ravens and Jets to work their way in the Super Bowl, but falling short to the Green Bay Packers, 31-25.
Despite even missing a few games at the start of the season due to a suspension, he produced 16-game season like numbers with 3,200 yards, 17 touchdowns and only five interceptions, going for a 97 rating.
Roethlisberger hopes to improve on the Super Bowl loss as the Steelers try to win a seventh Super Bowl for the franchise.
7. Matt Ryan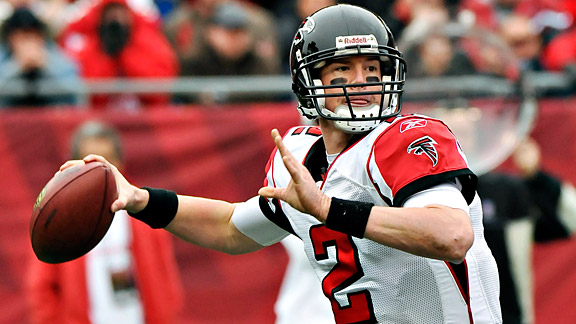 Matt Ryan led the Atlanta Falcons to best record in the NFC. However, Atlanta got upset and blew out by the eventual Super Bowl champion Packers.
Ryan had 3,705 yards with 28 touchdowns and only nine interceptions, earning him a 91 rating.
The Falcons hope to find the same success in the regular season, but this time get much farther in the post-season.
6. Drew Brees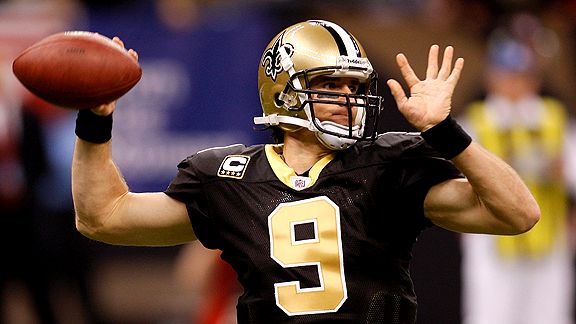 Drew Brees was able to get the New Orleans Saints into the playoffs, but the previous Super Bowl champions got completely surprised and upset by the 7-9 Seattle Seahawks in the first round. It was a shocker.
Brees threw for 4,620 yards with 33 touchdowns and 22 interceptions, going for a 91.9 rating.
Brees did have a bit of a slump year with the interceptions total, which quite high. However, other factors made up for it. Brees looks to work on not throwing so many interceptions, getting a run-game going with Mark Ingram now with the team, as the Saints hope to return as Super Bowl champs.
5. Tom Brady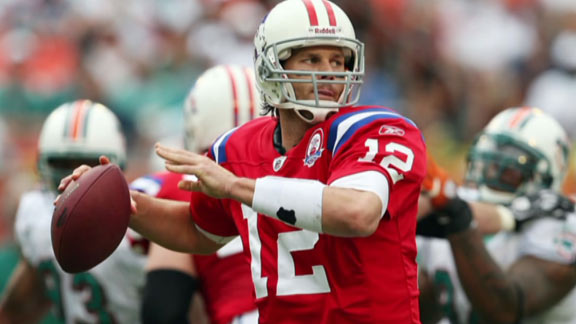 Now many are going to blast me for putting Tom Brady at this position, but you got to hear me on this one. I just have this feeling that the Patriots' era is now over. They will probably never get back to the Super Bowl now. He's getting older and just doesn't have that clutch in him anymore in the post-season, especially after when I saw that Jets game. I think it's over.
He did throw for 3,900 yards with 36 touchdowns and four interceptions, along with a 111 rating to lead the Pats to a 14-2 record, best in the AFC. Astonishing numbers.
However, it's just over in my opinion.
4. Michael Vick
Michael Vick helped turnaround the Philadelphia Eagles, but sadly lost to the eventual Super Bowl champion Packers in the Wild Card round of the playoffs.
But Vick had a fantastic comeback season, throwing for 3,018 yards with 21 touchdowns and six interceptions, along with a 100.2 rating. He also had 676 yards and nine touchdowns on the ground running.
Vick is the most unique quarterback on this list, and played just fantastic.
3. Phillip Rivers
Phillip Rivers is very under appreciated in the NFL among the quarterbacks, and he deserves to be in the top five.
He had thrown for 4,710 yards with 30 touchdowns and 13 interceptions, along with a 101.8 rating.
The Chargers could have made the playoffs, but fell short with a 9-7 record. Maybe if the team could have done better on special teams, San Diego could have easily won the AFC West.
2. Peyton Manning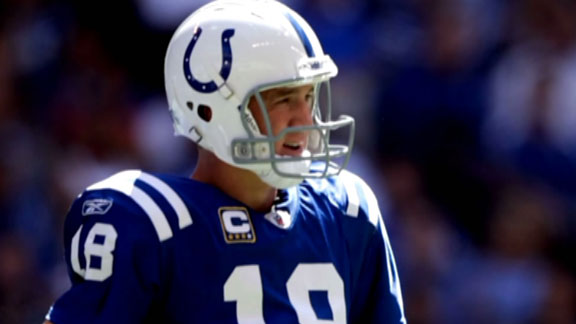 Peyton Manning helped get the Indianapolis Colts back on track and into the playoffs after a 6-6 slump. The Colts finished much better than expected after the slump, but lost a close one to the New York Jets in a 17-16 defeat.
Manning threw for 4,700 yards with 33 touchdowns and 17 interceptions, earning a 91.9 rating. And get this, this was one of Manning's worst years and he was able to produce solid numbers.
With an improved o-line via the draft, Manning hope to lead the Colts back on top of the AFC again.
1. Aaron Rodgers
I mean, who else would it be? Aaron Rodgers lit up the 2010 season, leading Green Bay to a Super Bowl win.
Rodgers had 3,922 yards with 28 touchdowns and eleven interceptions, along with a 101.2 rating.
Rodgers is going to be the best quarterback of the next decade, as him and Phillip Rivers look to be the new quarterback rivalry, in my opinion. He is still young, and like Rivers, still in his prime. Expect Rodgers to have another solid year. Maybe he can help Green Bay achieve another Super Bowl win.